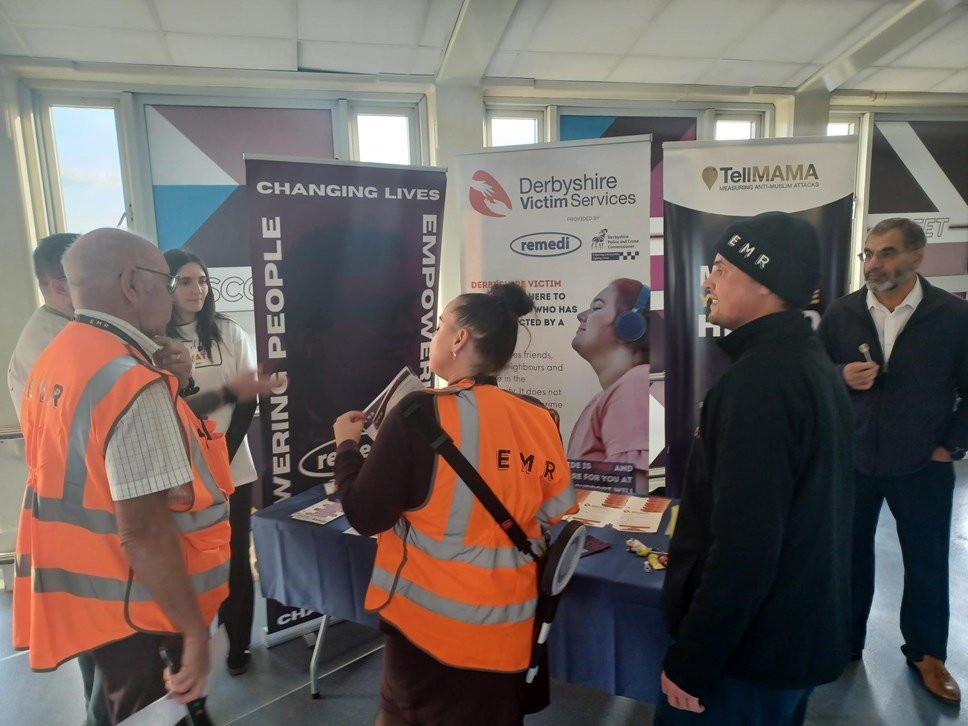 EMR host hate crime awareness event at Derby station
EMR host event to raise awareness of support available for victims of hate crime
A number of agencies spent the day speaking to both customers and staff at Derby station
East Midlands Railway (EMR) has hosted an event at Derby station to help raise awareness of the support available to people who may have been a victim of a hate crime.
Derbyshire Victim Services, Remedi Restorative Services and Derby City Council attended the station, alongside Tell Mama - a national project which records and measures anti-Muslim incidents.
The event, which was in recognition of Hate Crime Awareness Week, was created to inform customers and staff about what services were available if they have been or ever become a victim of hate crime. EMR is committed to working with its partner organisations to report any instances of hate crime so the appropriate action can be taken.
Hate crime is an incident which may or may not be a criminal offence but which is perceived as being motivated by prejudice or hate. This could be based on age, disability, race, religion or belief, sexual orientation or transgender identity. A victim does not have to be a member of the group at which the hostility is targeted.
In fact, anyone can be a victim of a hate crime. Hate crime can involve physical attacks and assaults, vandalism, criminal damage, verbal abuse, cyberbullying and financial exploitation to name but a few, and it can be committed against a person or property.
One of the attendees to the event at the station was Derbyshire Victim Services, it provides emotional and practical support to anyone who has been a victim of crime, historic or recent. Users of its services are able to access support regardless if it has been reported to the police or not.
Daryl Foran, Adult Caseworker and Hate Crime Lead at Derbyshire Victim Services, said: "The engagement from the staff at the station and from the community was fantastic - while the youth engagement regarding our services was refreshing.
"We look forward to future partnership working with East Midlands Railway and supporting anyone who needs our services in the future."
Jason Cocker, Area Manager - Derbyshire at East Midlands Railway, said: "Hate crime can have an incredibly traumatic impact on victims and communities. Our customers and staff come from a range of backgrounds and communities, and EMR is committed in playing our part to safeguard people and work with the appropriate organisations to address any incidents.
"We would like to thank Derbyshire Victim Services and all the other orgnisations who attended the event at Derby station and spoke to our staff and customers."
Contact Information
James Coxon
Media Relations Manager
East Midlands Railway
07919 217917