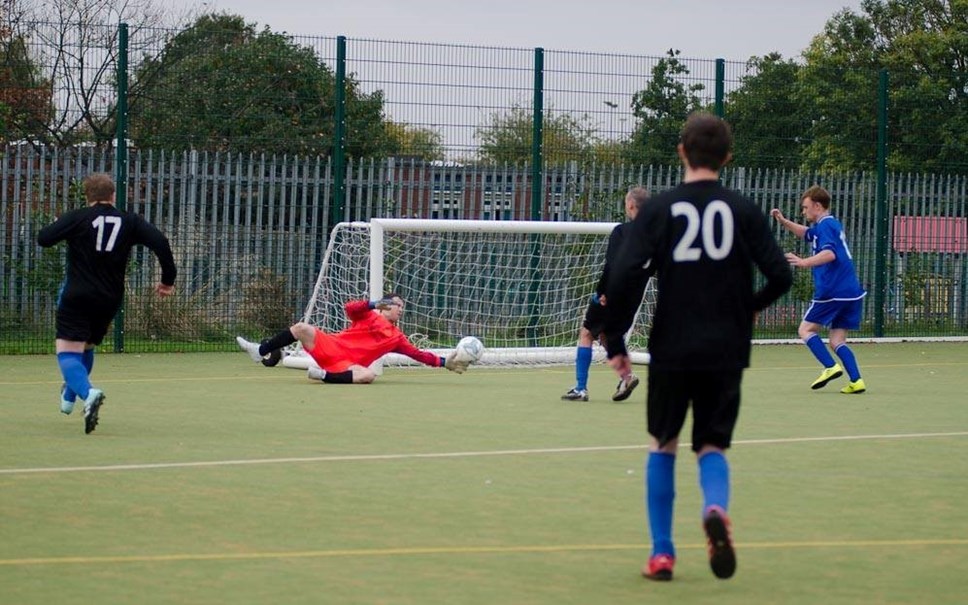 EMR's Community Fund helps support football league for children and adults with additional needs
Community Fund supporting Disability Football for All in the East Midlands
League caters for players with additional needs
Funding will help pay for referees, pitch fees, equipment and volunteer expenses
East Midlands Railway's (EMR) Community Fund has helped a football league survive which caters for children and adults with additional needs.
The fund has provided £2,500 to the Disability Football for All in the East Midlands - run by the East Midlands PAN Disability Football League.
The league, which has more than 130 players in teams across the East Midlands, is in its sixth season and was set up for children and adults with additional needs - such as autism, cerebral palsy, learning difficulties, mental health issues and people who have had a transplant.
The Community Fund will help pay for pitch fees, footballs, trophies and referees.
The organisers of the league rely heavily on volunteers and the money will also help them cover their out of pocket expenses and provide its volunteers access to relevant courses.
Simon Elmore, manager and player for Nottingham Transplant Football Team, said: "I cannot say how grateful myself and my team are that this disability league is available to us. It helps us improve our physical health, our social health, and mental health.
"Thank you to EMR for its support and to the passionate volunteers from the league that give up their time to allow us to live life again through football."
Jules Bellingham, League Secretary at East Midlands PAN Disability Football League, said: "We are very grateful for this important funding from EMR's Community Fund.
"Our ethos is to make football accessible for all and create a safe and friendly environment.
"We want to keep the price the players pay to an absolute minimum but have to balance this with the ongoing rising costs. With this funding, we can guarantee the payment of pitch fees and will be able to have trained referees too.
"Importantly we can also support our hardworking volunteers and make sure our players, who come from all backgrounds, can enjoy playing the game of football as equals with other players from across the East Midlands."
Kaye Robinson, Community Engagement Manager at East Midlands Railway, said: "This project provides people with additional needs the opportunity to play competitive football in a safe, fun and friendly environment.
"We are delighted to support the league and help many people from our region enjoy the social and health benefits the sport brings."
For more information on the East Midlands PAN Disability League please visit www.empdleague.co.uk
EMR Community Fund
EMR's Community Fund aims to support communities and organisations along the routes that EMR serve. It is designed to inspire projects that make a difference to those that need it the most.
The fund is the first of its kind for the railway industry in the East Midlands and is available to community rail partnerships, station adoption groups, charities, community interest companies, schools, youth organisations, sports clubs, not for profits, and groups such as Beavers or Guides.
To qualify the group or organisation must operate within 15km of an EMR managed station and successfully meet the requirements of funding set out by EMR.
Contact Information
James Coxon
Media Relations Manager
East Midlands Railway
07919 217917