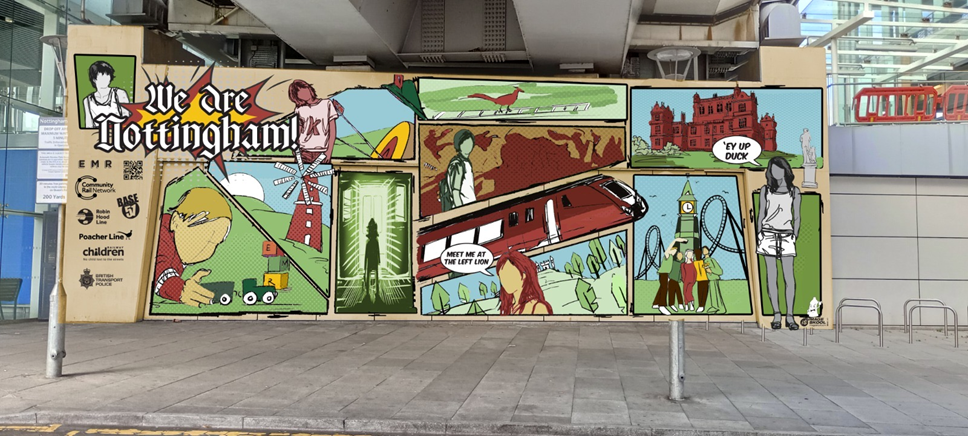 Art on the Move: Nottingham station set to unveil mural promoting rail safety
Artwork depicts famous Nottingham landmarks and highlights rail safety
Several organisations have collaborated to create design which will be located near the station's taxi rank
Public are being invited to attend the grand unveiling on Friday, November 17, at 1pm.
A mural that depicts famous Nottingham landmarks and aims to spread a message that rail is a safe place for young people to use is to be created at Nottingham station.
The artwork, designed by the team at Imageskool, will be painted on a piece of wall near the station's taxi rank.
Several community groups and organisations are joining forces to make this project a reality. Base 51, a local youth group based in Nottingham, is playing a pivotal role in the creation of the mural. Its collaboration with Railway Children, the Poacher Line CRP and Robin Hood Line CRP has been instrumental in bringing the project to life.
While funding for the project has been provided by East Midlands Railway, CrossCountry Trains, and Community Rail Network.
The public is invited to attend the grand unveiling, scheduled for Friday, November 17, at 1 pm.
Kaye Robinson, Community Engagement Manager at East Midlands Railway, said: "We were delighted to be able to support this project and help send the powerful message that our rail network should be safe for all.
"It's a great piece of artwork that will brighten up the area, and we are encouraging members of the public to pop down and see it for themselves."
James Mayle, Artist/Designer from Imageskool, said: "We were excited to once again collaborate with EMR on another amazing mural project, especially being able to work alongside Railway Children and the young people and staff from Base51.
"We have created a lasting piece of artwork inspired by our rail network being a safe and accessible way for young people to experience and explore areas outside of Nottingham."
David Bentley, Learning, Development, and Participation Manager at Railway Children, said: "We are excited to have been involved in supporting EMR in creating this fantastic mural that depicts the influence of rail in a young person's life and journey.
"We have been working closely with EMR and the rail industry to further promote the safety and well-being of young people on the rail network, and we continue to support them with their Safeguarding on Rail Scheme accreditation. We look forward to some new and exciting developments with them in the coming months."
Contact Information
James Coxon
Media Relations Manager
East Midlands Railway
07919 217917
Notes to editors
Railway Children
Railway Children works alongside the rail industry and British Transport Police to raise awareness of vulnerability on the transport network to safeguard and support children and young people who are at risk of abuse, neglect and exploitation.
It has partnered with EMR over the last 12 months and has supported it to work towards achieving the Safeguarding on Rail Scheme.
Through this partnership, the charity was offered the opportunity to help consult on the proposal of the mural with the key theme being about young people in the East Midlands, in particular Nottinghamshire.