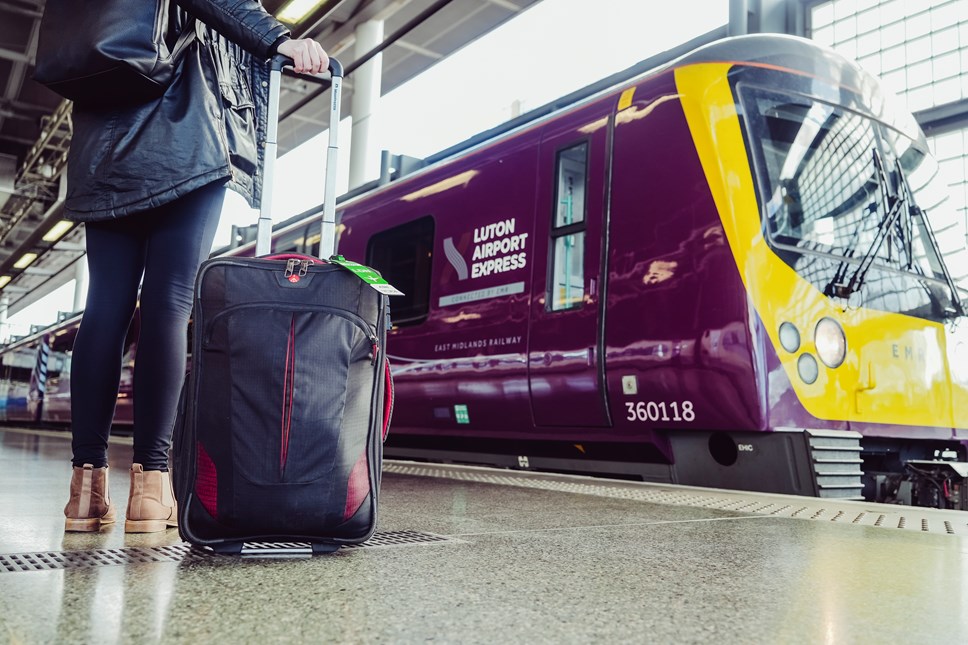 EMR launch Luton Airport Express - travel from London to the airport in 32 minutes from just £10
Travel from London St Pancras to London Luton Airport in as little as 32 minutes, every 30 minutes
Fares start from just £10 - including the price of DART ticket
Trains have ample luggage space, accessible toilets and free WiFi
East Midlands Railway (EMR) has launched Luton Airport Express - allowing customers to seamlessly travel from London St Pancras International Station to London Luton Airport (LLA) in as little as 32 minutes - with fares starting from just £10.
The express service runs from the capital to Luton Airport Parkway where customers can now use the brand new Luton DART shuttle to the airport.
Luton Airport Express trains depart every 30 minutes, from early morning to late at night Monday to Saturday, with regular services on Sundays.
While the Luton DART runs 24 hours a day and takes customers from the train station to the airport terminal in under four minutes.
There is a lift and escalators for step-free access between the train platform at Luton Airport Parkway and the DART terminal.
London Luton Airport is one of the UK's busiest airports, carrying over 13 million passengers in 2022 and has more than 40 shop and restaurant brands to choose from.
Leisure and business passengers flying from LLA can travel to more than 140 destinations in Europe, North Africa and Asia. Airlines include easyJet, Wizz Air, Ryanair, Tui, FlyOne, Sun Express and El Al.
Simon Pready, Commercial Director of East Midlands Railway, said: "EMR's Luton Airport Express will provide customers travelling from the capital and the south, a convenient, fast and environmentally friendly way to get to the airport – with a trip taking as little as 32 minutes and costing from just £10 – it's a great option.
"Along with the introduction of DART, the Luton Airport Express represents the beginning of an exciting new chapter for the town and we are proud to be part of such an environmentally and economically important project.
"I'm personally looking forward to speaking to our customers to find out where they are jetting off to."
Alberto Martin, CEO of London Luton Airport, said: "Taking just 32 minutes door-to-door, the launch of the transformational Luton Airport Express means that London Luton Airport has never been closer to central London.
"The service will provide a faster, more frequent and more convenient connection from train to plane, making LLA one of the capital's best-connected airports and supporting its mission to deliver a simple, friendly end-to-end passenger experience."
Graham Olver, Chief Executive of Luton Rising, said: "The Luton Airport Express and its seamless connection with the ground-breaking Luton DART will make a tremendous difference to passengers, making journeys to London Luton Airport faster, easier and greener, and encourages people to take the train and leave the car at home.
"The Luton Airport Express and the DART are also great news for people in Luton because every extra passenger using London Luton Airport boosts the unique investment we as the owners of the airport are able to make to local services."
Contact Information
James Coxon
Media Relations Manager
East Midlands Railway
07919 217917