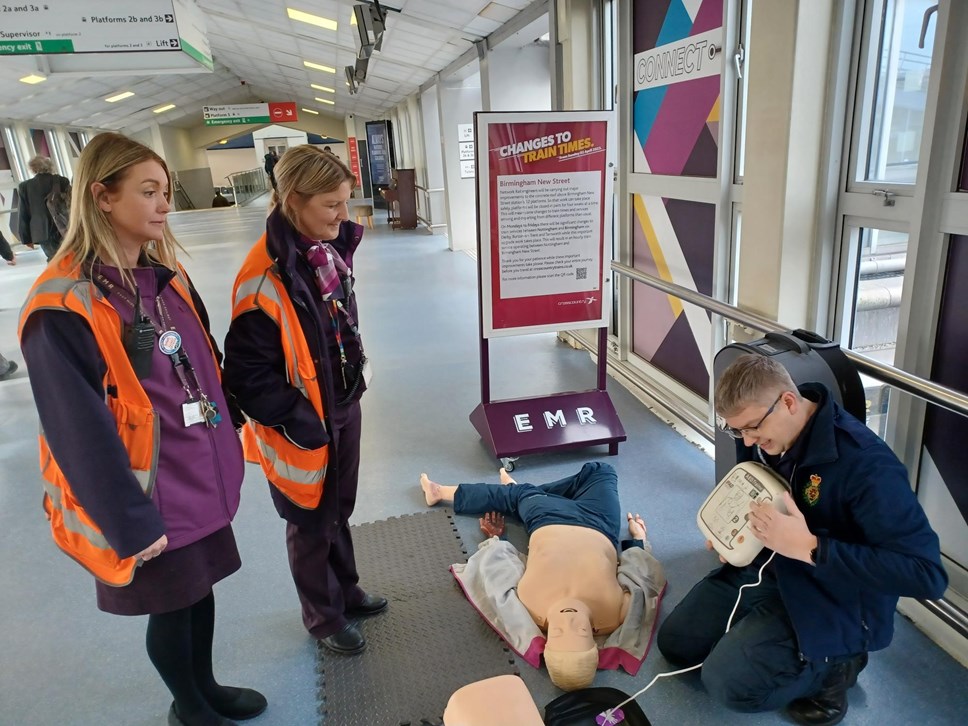 Restart a Heart Day: EMR customers and staff learn vital skills at Derby station
EMR customers and staff take part in Restart a Heart Day at Derby station
Participants learn how to do CPR and use a defibrillator
Customers and staff of East Midlands Railway (EMR) had the chance to learn how to restart a heart as part of a special event at Derby station today.
Participating in Restart a Heart Day, which involves a group of organisations coming together to raise awareness of cardiac arrests, EMR invited Darley First Responders working on behalf of East Midlands Ambulance Service to the station to provide hands-on CPR and defibrillation demonstrations.
Staff from the ambulance service also took the opportunity to educate people about the role of a first responder, as well as promote its vital work.
Jason Cocker, Area Manager - Derbyshire at East Midlands Railway, said: "We would like to say a big thank you to Darley First Responders for coming along and showing our staff and customers these vital skills.
"Many of our staff, station cleaners and customers had the chance to practice using defibrillators and perform CPR - as well as receive some really useful life saving information.
"Staff who took part say they already feel more confident to help, should they ever find themselves in the situation."
Contact Information
James Coxon
Media Relations Manager
East Midlands Railway
07919 217917