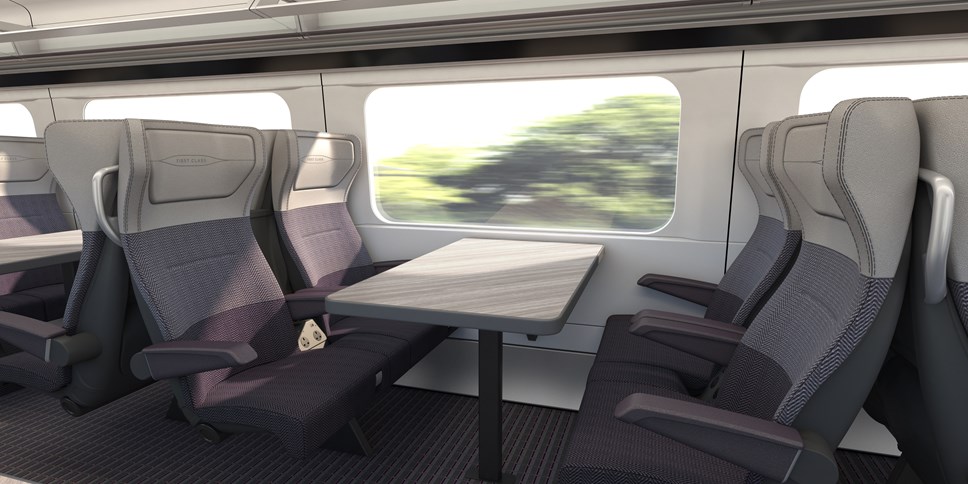 Customers enjoy first chance to try out EMR's new Intercity train seats
Customers at Nottingham, Derby and Sheffield try out seats that will be used in EMR's new Aurora fleet
Positive reaction from customers to bespoke design and features
Leicester and East Midlands Parkway customers will also get the chance to try new seats
Customers passing through Nottingham, Derby and Sheffield station have enjoyed the chance to try out the bespoke seats which will be used for East Midlands Railways' new Aurora Fleet.
The unique seats have been at special displays at Nottingham, Derby and Sheffield station since November.
The seat displays will also be on show at Leicester and East Midlands Parkway station so more customers can get a chance to try them.
Customers visiting the displays have the opportunity to find out how EMR has been working hard to make sure the interiors of the new trains will include all the features customers expect from a modern railway service - including more connectivity, luggage space and passenger information.
Working closely with Derby-based design firm DGDESIGN, EMR has taken the proven product of a FISA Lean seat and refined it to offer enhanced comfort and support. It has also improved the appearance to match what they believe customers expect from an Intercity service seat.
The seat rework has included increasing the size of cushions, headrests and armrests and making sure that high quality durable materials are used throughout, such as a wool-rich moquette and leather.
At the same time, EMR has also ensured the seats include all the practical and technological features that customers require, such as power and USB points, generous legroom, coat hooks, well-sized seat-back tables for all airline seats and space to stow a cabin-bag under each seat.
The trains will also include features that passengers have said they want to see, including air conditioning, free WiFi throughout, plug sockets and better passenger information screens.
Rachel Turner, Head of New Trains at East Midlands Railway, said: "It has been enjoyable seeing how customers have reacted to design of the new seats.
"We have worked really hard to make them as comfortable as possible and include all the features that customers need for a pleasant or productive journey - including more storage, USB points and generous legroom.
"We look forward to showcasing them to our customers at Leicester and East Midlands Parkway."
Contact Information
James Coxon
Media Relations Manager
East Midlands Railway
07919 217917