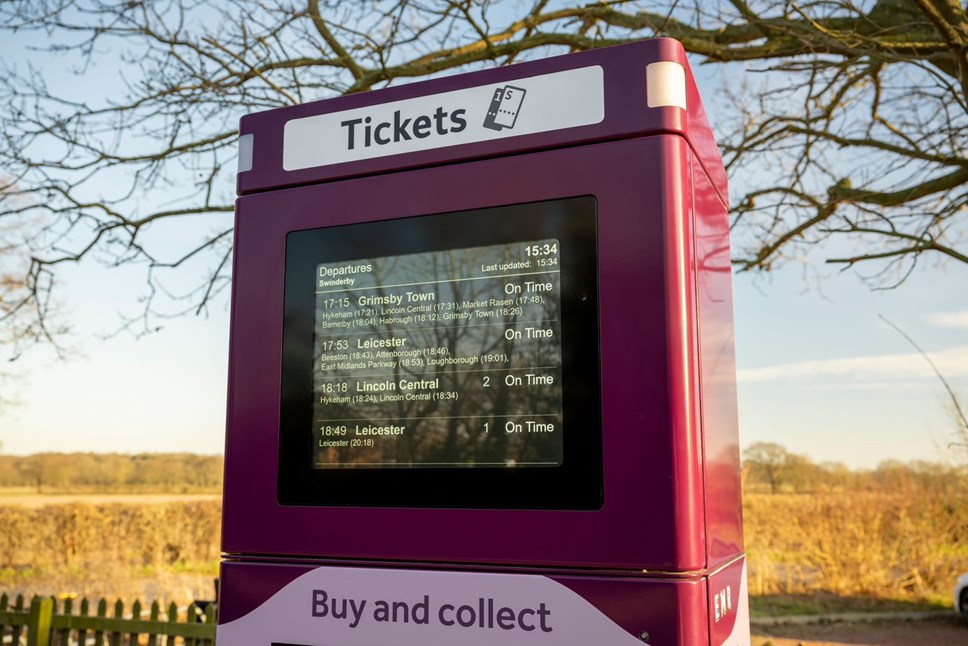 EMR Regional customers to benefit from Smart Kiosks with real-time information screens
New real-time information screens fitted at stations as part of Smart Kiosk installation project
14 stations across regional network receive screens
Customers able to access real-time arrival and departure times
Regional East Midlands Railway (EMR) customers in Derbyshire, Nottingham, Lincolnshire, Leicestershire and Staffordshire will now benefit from real-time information updates following the installation of Smart Kiosks with screens at some stations.
The information screens, which have been installed at 14 stations across EMR's regional network, provide customers updates on train times and journey information - such as expected arrival and departure times.
Their introduction formed part of a project to install 29 Smart Kiosks across EMR's regional network. The information screen version of the kiosks were designed to fill a gap at stations that lacked any other real-time customer information.
Smart Kiosks allow customers to buy advance and walk-up tickets as a printed barcode, instead of the old-fashioned orange paper tickets.
The self-serve machines can issue traditional walk-up fares to customers whilst offering a full range of national Railcard and local discounts.
The new kiosks will also allow the sale of Advance Purchase fares for those customers who are not travelling immediately and are happy to travel with a little less flexibility.
The machines are built to utilise Smart Ticketing functionality too - allowing customers to purchase a Smartcard and collect them from the machine.
Simon Pready, Commercial Director at East Midlands Railway, said: "Our new screens make sure that our regional customers have the main information that they need for their journeys and we hope they find them, as well as the other features of the Smart Kiosks, useful as they travel across our regional network."
The real-time information screens will be included at the following stations:
Ruskington
Carlton
Netherfield
Radcliffe
Aslockton
Fiskerton
Swinderby
Gainsborough Lea Road
Langley Mill
Burton Joyce
South Wigston
Longton
Lowdham
Bottesford
Contact Information
James Coxon
Media Relations Manager
East Midlands Railway
07919 217917