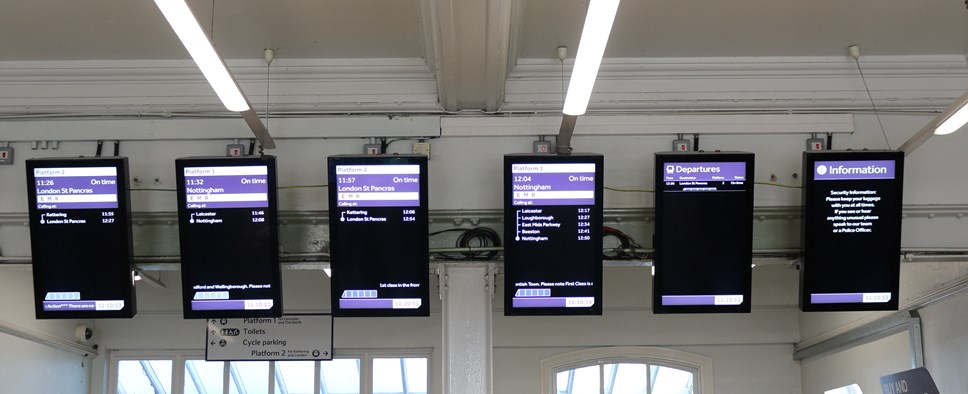 Kettering, Market Harborough and Wellingborough receive new customer information screens as part of £1million station project
Interactive screens offer accessibility and local information - such as onward travel options or tourist information
New screens will help customers better access and understand information during disruption
East Midlands Railway's (EMR) plan to roll out a £1 million project to install 166 new customer information screens is pushing ahead - with Market Harborough, Wellingborough and Kettering the latest stations to receive the upgraded screens.
The project, which is being rolled out working with suppliers Infotec and Thales, will involve fitting the screens at the main key stations served by EMR, namely Derby, Nottingham, and Sheffield, as well as numerous regional and rural stations.
The colour screens have been designed to be easily visible and comprehensible to customers under various weather and lighting conditions, catering to passengers with different levels of literacy and language proficiency.
Twenty-five of the screens will be interactive, allowing customers to access important local and accessibility information, such as onward travel options, tourist information, and the locations of council offices. Additionally, customers will be able to scan QR codes on these screens to download useful walking routes.
Dave Meredith Customer Services Director at East Midlands Railway, said: "Work is progressing well in installing these important screens across our network.
"The new screens will help customers quickly comprehend the latest information about their journey, consequently improving the flow of people around our stations.
"We have taken great care to ensure they work effectively in busy environments with considerable background noise and visual distractions. Furthermore, they have been designed to be accessible to a wide range of customers, from tech-savvy travellers to individuals who prefer printed timetables, as well as those with low literacy or non-English speaking backgrounds."
Customer information screens will be installed at the following stations:
Beeston
Chesterfield
Derby
Kettering
Loughborough
Mansfield Town
Market Harborough
Matlock
Narborough
Newark Castle
Stamford
Wellingborough
Interactive customer information screens will be installed at the following stations:
Ambergate
Beeston
Burton-on-Trent
Chesterfield
Corby
Cromford
Derby
Duffield
East Midlands Parkway
Kettering
Leicester
Lincoln
Long Eaton
Loughborough
Mansfield Town
Market Harborough
Newark Castle
Nottingham
Sheffield
Sleaford
Wellingborough
Contact Information
James Coxon
Media Relations Manager
East Midlands Railway
07919 217917